Get your tailor-made bike
that grows with your children
FEATURES
Adaptable --
Adaptable with the growth of your children. Upper-lower/front-rear adjustable frame sizes. FIT B16" & B20" are suitable for a person 125cm – 180cm tall, ensuring a comfortable biking experience for your children at every stage of their growth.
User friendly --
Upper-lower/front-rear adjustable frame sizes are customized for people in different heights.
Multi-functional --
Depending on the riding purposes, a rider may switch between "Leisure (city) Riding Mode" and "Sports (suburb) Riding Mode" to adjust the bike framesets.
Electric assisted bicycle
Combined with the frame, the GIATEX FIT electric assisted bicycle's battery is placed in the telescopic inner tube. This integrated design makes the bike's appearance become more concise, just like a normal one.
​
The telescopic inner tube, containing the lithium battery, is itself a battery box, which is waterproof and anti-theft. The battery box is also GIATEX FIT's structural component of the down tube.
​
According to the capacity of lithium battery, there are different sizes of frame tubes, which are lightweight urban, standard, and heavy-duty types. Therefore, GIATEX FIT can meet and satisfy different consumer's needs.
​
GIATEX FIT electric bicycles are really good value and tailor-made for each rider. The human-centered design allows adults or teenager to ride together. The characteristic of multi-functional riding mode selection is closer to consumers' demand.
​
The lithium battery box spec.
Urban types:
Rate:36V / 8.8Ah - 10.5 Ah
Configurarion : 10S3P
Standard types:
Rate:36V / 12 Ah - 17.5 Ah
Configurarion : 10S4P / 10S5P
heavy-duty types:
Rate:36V / 18 Ah – 31.5 Ah
Configurarion : 10S6P / 10S7P / 10S8P
​
Everyone comes in different heights, leg lengths, and arm lengths. Everyone also has different riding styles, and different riding requirements for every biking tour. If the frame is in the wrong size, the rider will be forced to ride in an inappropriate posture, which will lead to muscle soreness and spasms. This in turn causes people to be reluctant to ride bicycles. GIATEX's creative stretchable design may help adjust your bike frame to fit your riding style, allowing you to keep proper riding posture and reduce the stress on your arms, back and knees. With this innovative design, riding a bike would be like wearing a pair of comfortable shoes that make it easy and simple even for walking long distance.
When growing up, a child experiences changes in height. Principally, to tone in with the change of leg length, we need to adjust the height of the saddle; while to match the upper body and arm length, an adjustment of the distance between the handlebar and the saddle is required. By adjusting the framesets, you may save the trouble of replacing bikes for your children as they age and develop.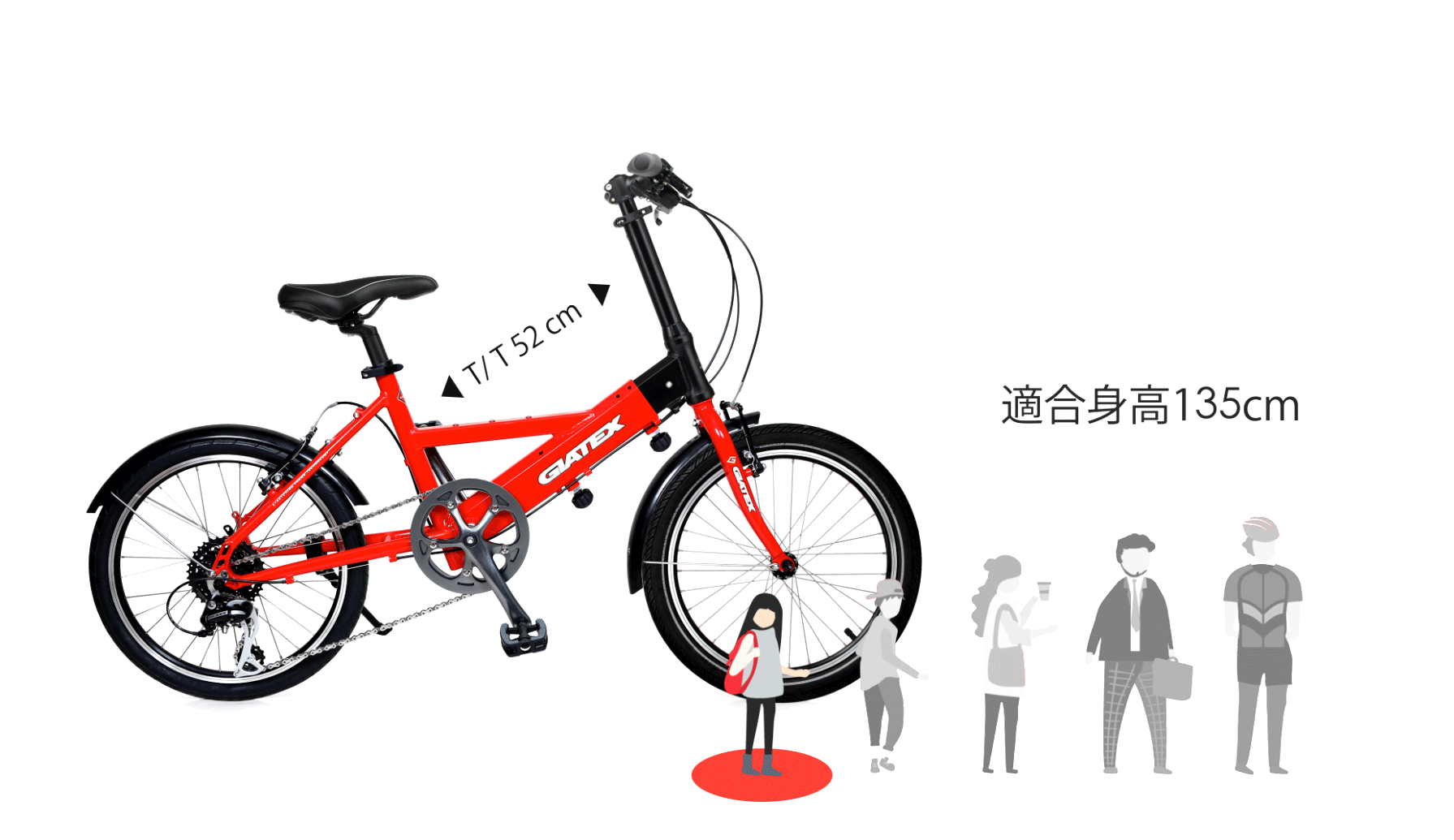 With original non-level stretchable design, GIATEX not only allows riders to switch between Sport or Leisure riding mode depending on their riding purposes, but also makes it possible to adjust the frameset tool-free. In Sport riding mode that optimizes the steering performance, riders may use stepless fine-tuning, according to their physical stature, to find out a frame size most suitable for themselves, ensuring their need for different biking tours is met. Giatex FIT is now the world's first bike that fulfills consumer's various needs.
​
Long-distance riding will inevitably lead to muscle soreness and spasms. Riders may freely fine tune the top tube on Giatex FIT to alter their riding posture, which will also change the stress point of muscle nerve, making a long-distance riding tour more comfortable.
Shorter frame size, back upright, more comfort.

Head tube angle changes to 69゚, longer trailer

More stable in low speed

Smaller seat tube angle, moving center of gravity backward, no rolling over on steep slopes
Longer frame size, lower handlebar, less wind drag

Seat tube angle changes to 73゚, more pedaling efficiency

Longer frame size, more stable riding at high-speed

Move center of gravity backward, no rolling over on steep slopes.
Giatex FIT's down tube with larger tube diameter provides unprecedented safety protection. Our crash-safety protection with dumb-proof, fool-proof design prevents users from any danger arising from improper operation. Even when the frame is not secured properly, the downward pressure of the frame will lock the stretchable frame, protecting the frame from risks of crashing as the bike is moving. Users have to release the downward pressure of the frame in advance and then they can easily change the frame size.
​
When the frame is reduced to the minimum size, the pedal will still keep a safe distance from the front wheel, without causing danger due to improper operation. Our unique anti-torsion design helps the bike withstand the challenges of drawing or pressing when cornering.
With the test condition set for the top tube (T/T) at 640mm length, we have passed SGS test and EU standards: ISO 4210-6 SGS THD0258C/2015
The tool-free quick adjustment ensures smooth stretching without scratching the frame. The nylon pad between the inner tube and the outer one can also absorb vibration from the road.
Besides minimizing the stretchable structure, the quick release may adjust the direction of the handlebar rapidly, making the handlebar parallel with the bike gear to minimize the room for storage.
Patented in many countries
Obtained and registered invention patents in Taiwan, China, Japan, USA, and EU.
Taiwanese invention Patent No. I500550
Chinese invention patent No.2502173
Japanese invention patent No.6060469
US invention patent No.9694869
European invention patent No.2891595
GIATEX bike frame is made with standard specifications so that riders may refit their GIATEX bikes as they wish. As a rider grips the flat handlebar at different points from where he/she grips the drop handlebar, a fixed-size frame can't accommodate this difference between the drop and flat handlebar. With GIATEX's unique stretchable design, riders may adjust the length of the top tube, in accordance with their body figure, to enjoy the biking experiences provided by both the flat handlebar and drop handlebar.
The 2-stage stretchable frame, sandblasted anodized finish at the front, showing a unique stylish appearance.
The locking knob can be hidden or unhidden as required, and the brake line and variable speed cable are invisible, making the bike look more streamlined.
Saving money / environmental friendliness
GIATEX FIT is a multipurpose bike, which allows users to choose a proper riding mode or adjust the bike size. The entry model, sized under 20", is for children. The advanced model can be shared among all family members. With this unique feature of "one bike for all," GIATEX FIT is both low cost and environmentally friendly.
A premium and yet affordable bike that meets customers' budget.